---
Generally. A database transaction symbolizes a unit of work performed within a database management system (or similar system) against a database, and treated in a coherent and reliable way independent of other transactions. A transaction generally represents any change in a database.
Begin transaction
Execute set of changes / queries
Start Commit:

If no error occurs, then commit the transaction
If error occurs, then roll back the transaction
---
Transactional models:
Local - JDBC
Programmatic - JPA
Declarative - Spring Annotations
Transactional workflow: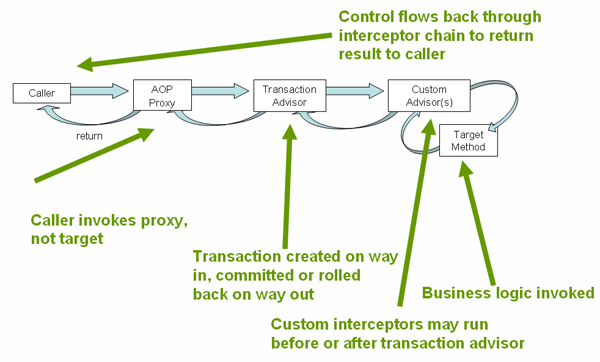 ---
@Transactional Settings
The default @Transactional settings are as follows:
The propagation setting is PROPAGATION_REQUIRED.
The isolation level is ISOLATION_DEFAULT.
The transaction is read-write.
The transaction timeout defaults to the default timeout of the underlying transaction system, or to none if timeouts are not supported.
Any RuntimeException triggers rollback, and any checked Exception does not.
Transaction propagations:
MANDATORY
NESTED
NEVER
NOT_SUPPORTED
REQUIRES_NEW
SUPPORTS
Isolation levels:
DEFAULT
READ_UNCOMMITTED
READ_COMMITTED
REPEATABLE_READ
SERIALIZABLE
---
Programmatic Transaction Management
The Spring Framework provides two means of programmatic transaction management, by using:
The TransactionTemplate or TransactionalOperator.
A TransactionManager implementation directly.
---